Any PCB shop can fabricate simple 2-layer FR4 printed circuit boards, but is your PCB vendor best suited for your specific project? Can they fabricate boards with more advanced features such as HDI, via-in-pad, microvias, or rigid-flex? Here is a list of signs that may indicate your PCB vendor is not the best suited for your PCB project:
• Your PCB vendor consistently de-commits on their promised delivery.
• Your board panels regularly have a significant amount of X-outs.
• Your PCB vendor consistently restarts orders, causing delays.
• Your PCB vendor's pricing is consistently not in-line with the other quotes you get from other supplier(s).
• Your PCB vendor's lead-time is consistently longer than your other supplier(s).
• When there is a quality issue, your supplier makes the claims process tedious and difficult.
• The factory tells you, after you place the order, they cannot meet the tolerance requirements for your designs, and need a waiver from you.
A Quick Overview of the Industry
Mainland China is undoubtedly the largest production region in the world. The estimated total output value is 31.1 billion dollars, 51 % of the global total value. They have the largest market share for lower-technology products like 2–6 layer PCBs, which started in the early 1990s, and the higher-technology Microvia HDI products, in the last decades. Please refer to figure A and B.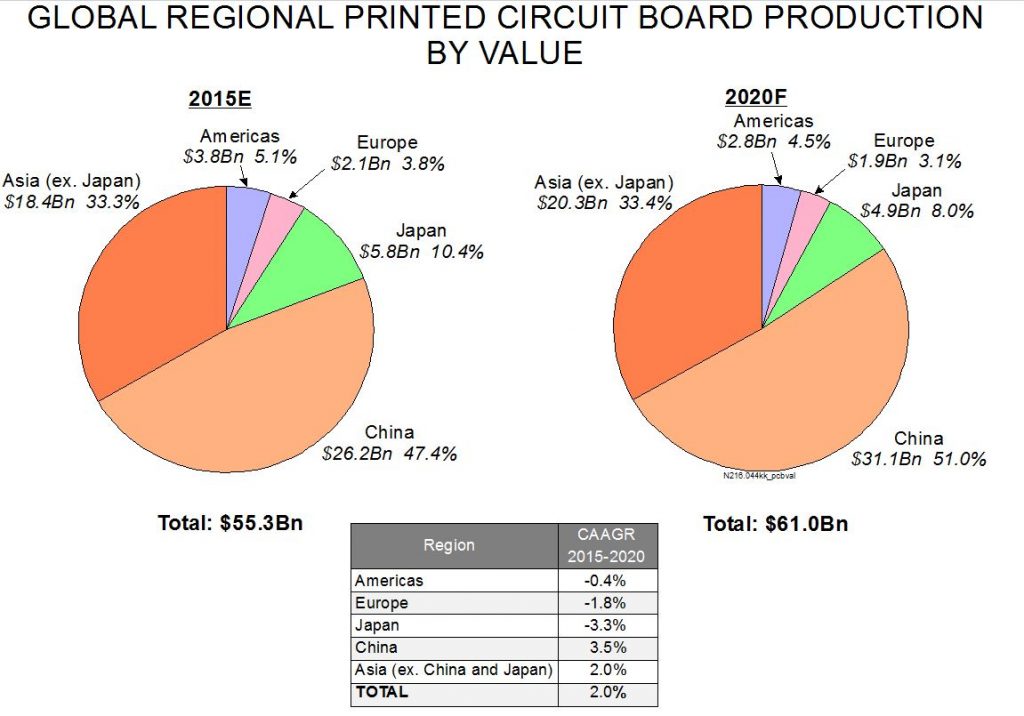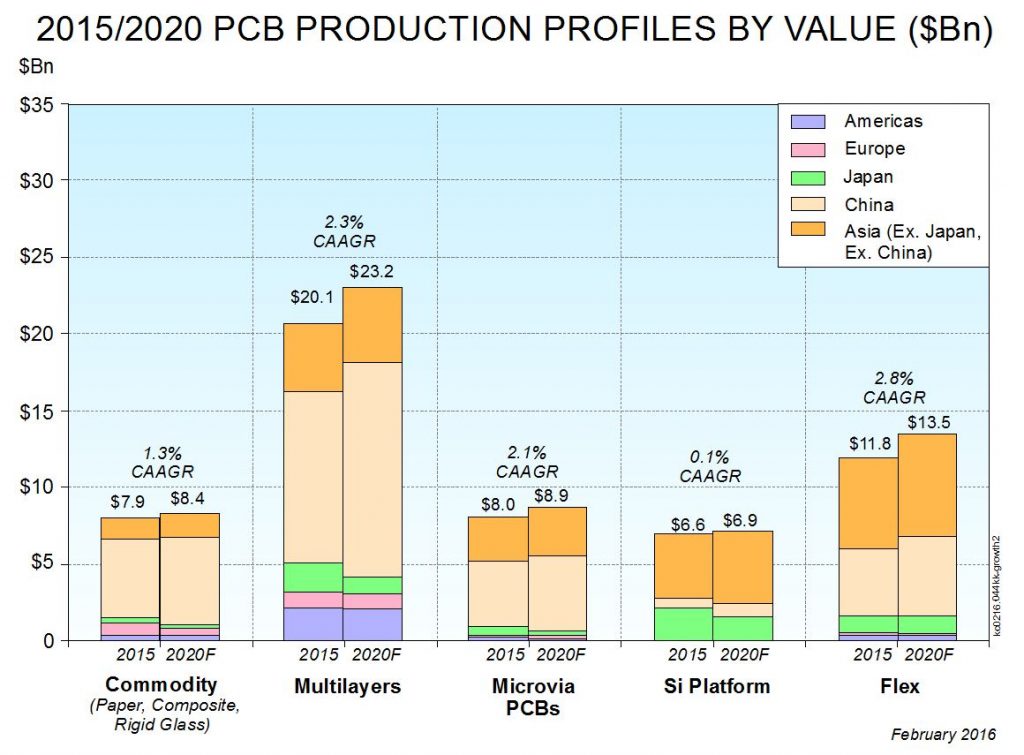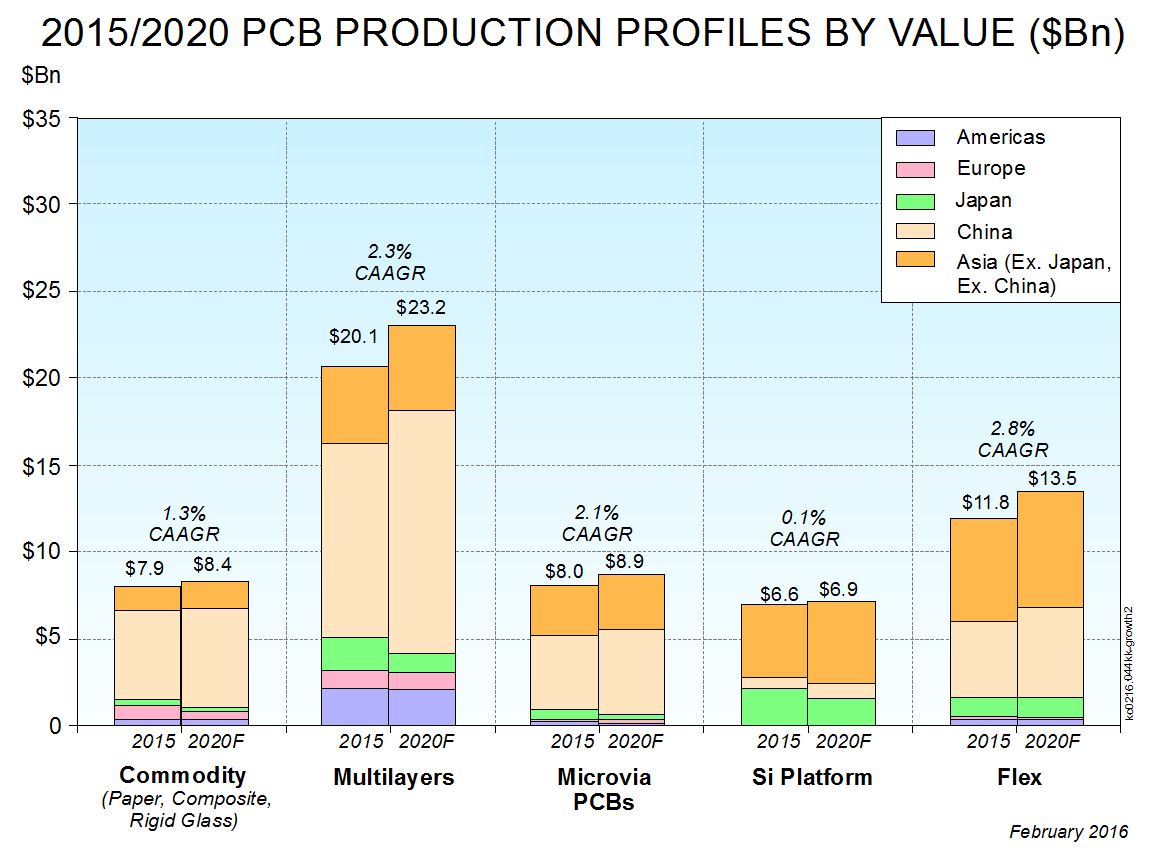 According Prismark's report this year, 18+ layer PCBs, silicon platform and flex circuits are expected to grow at a faster rate in the coming years. China's electronics and PCB industries are also entering into another phase  of  technology  transformation,  with  government  policies  promoting  the  migration  of  product  technology towards the production of semiconductors, substrate and chip packages, and other cutting-edge technology.
Currently, China's PCB growth opportunities are still primarily centered on handheld mobile devices such as smartphones, tablets, and wearable electronics, etc. Most of these end products are being manufactured and assembled in Asia, particularly China and some parts of Southeast Asia. This kind of PCB application is classified as small and thin PCBs, which were largely produced by Japan's manufacturers in the last decade. Due to the heavy CAPEX involved, capacities for technologies such as HDI, flex and flex assembly, and rigid-flex are being set up mainly by major players.
Building a Network of Offshore PCB Manufacturing Partners.
In 2007, we started searching for an offshore PCB manufacturing partner for our stencil customers (currently over 10,000). After a long search and some negotiation, we believed we found "the perfect PCB shop". Boy, were we wrong!
Factory 1
Our first PCB manufacturing partner was located in Beijing China. They could fabricate Rigid, Flex and Rigid-Flex printed circuit boards and had a wide range of capabilities (Controlled Impedance, Mixed Inner Copper Weights, Blind and Buried Via, CAP or Foil Construction, Via-in-Pad, HDI, Mixed Materials, High Temperature, High Frequency Material, Aluminum and other special materials). On our Hard-to-Make-PCB scale from 1 to 10 they would easily rank 7 or 8. They were mainly set up for high volume but were willing to fabricate prototypes and short runs hoping to get the high volume business. After almost a year of partnering exclusively with this factory, we discovered that our prices were not competitive. Particularly for low volume 2 and 4 layer simple boards.
Lesson 1 – A state-of-the-art factory designed to fabricate high volume complex circuit boards cannot fabricate low volume simple boards at competitive prices.
Factory 2
After a few months searching, we found our second PCB manufacturing partner in Shenzhen China. This factory specialized in quick-turn low volume PCB fabrication. Their prices were very competitive and their on-time delivery record was excellent. Like many other factories in China and Taiwan, they exaggerated their capabilities. Exaggerating one's capabilities is very typical in that part of the world so you have to be very skeptical. We have now worked with Factory 2 for a few years and have learned their true capabilities. They are best suited for low quantity, low cost 2, 4 and 6 layer rigid boards. On our Hard-to-Make-PCB scale from 1 to 10 we give them a 5. One time, we made the mistake of sending them a PCB project with 14 layers, blind and buried vias and mixed inner copper weights. It did not turn out well. They had to scrap most of the boards. Luckily, factory 1 was able to make these boards for our customer in an expedited fashion. Of course, we covered the expedite cost.
Lesson 2 – A low tech factory that is designed to fabricate low cost boards is not suited for multilayer boards with advanced features like blind and buried vias and mixed inner copper weights.
Factory 3
Many of our customers sometimes require a few thousand simple (2, 4 and 6 layer) rigid boards in one or two weeks. Unfortunately, Factory 1 and Factory 2 were not best suited for this type of PCB projects. Though Factory 1 could fabricate thousands of boards in one or two weeks their price structure was too high. Factory 2 lacked the capability to manufacture thousands of boards in a week or two. After some searching, we found our third PCB manufacturing partner.
Lesson 3 – Never ask a prototype shop to fabricate high volume production. Their price will not be competitive and their lead time will be too long.
Factory 4
A couple of years ago a customer contacted us about an extremely challenging PCB project (fabrication and assembly). He was having a difficult time finding a US company that could fabricate his boards. We helped him look and found a couple of domestic PCB shops that quoted the project but their prices were beyond what our customer could afford so the search for an offshore factory began. Factory 1 quoted the project so we ordered the parts and shipped them to China. The parts got stuck in customs for the Chinese New Year. It turned out that Factory 1 could not fabricate the boards and could not find a manufacturing partner in China that could fabricate the boards without making major design changes. Fortunately, we found a PCB factory in Taiwan that said they could do the project at a price our customer could afford (the prices in Taiwan are lower than US prices but not as low as prices in China). Their engineering team met on skype with our customer a couple of times to work out the details. A couple of weeks later, our customer called from a trade show to thank us. He said the boards worked perfectly.
Lesson 4 – No matter how hard your boards are there is a PCB factory out there that could fabricate them. You just have to know where to look.

A Network of Manufacturing PCB Partners
After helping customers with literally thousands of PCB fabrication projects, we have found that the only way to really take advantage of the large number of factories in China and Taiwan is to develop a robust network of PCB manufacturing partners.

Conclusion – One Size Does Not Fit All
There is a PCB price war out there and thousands of factories in China and Taiwan are fighting for your business. Two decades ago large US companies starting to offshore their PCB manufacturing to China and Taiwan but in the last decade small and medium size companies (including design firms and universities) are taking advantage of the offshore PCB market. It is now common for companies of any size to order their prototypes and low volume runs from China or Taiwan. The factors driving this trend are: low prices, high quality, fast delivery and low transportation cost (as low as $30 for two day delivery).
But price should not be the only determining factor in selecting an offshore PCB vendor unless your company is only ordering low tech boards. In general, if you are ordering all their PCBs from one vendor (offshore and even domestic), you are probably not getting the best value.